John Richardson
Ethelo
Vancouver, BC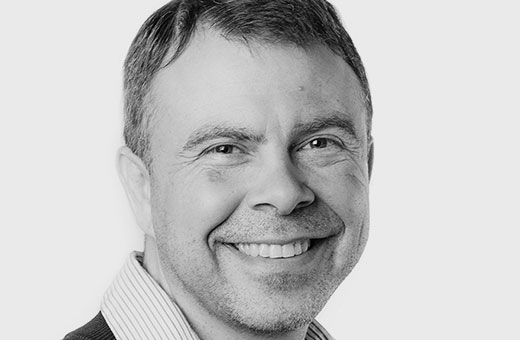 Sector Impact
Civic Engagement
Human Rights & Equality
Science & Technology
Using digital technology to improve democratic decision-making
John Richardson invented a way to focus collective intelligence to reach collaborative decisions about complex issues quickly and fairly.
Flipping the script from 'for' and 'against' to a fairness mindset
For community groups tackling complex social problems, decision-making is rarely simple. Too often decisions are framed divisively as 'for' or 'against', nuances and power dynamics are overlooked and superficial engagement efforts fail to surface meaningful knowledge.
This is the insight John Richardson took away after spending more than a decade working to support collaborative decision making in Vancouver's Downtown Eastside. In 2001, motivated by a desire to retool our legal system to better serve the most oppressed, John founded Pivot Legal Society.
At Pivot, lawyers work with citizens to advance the interests of marginalized communities with a focus on police accountability, sex worker and drug user rights, homelessness and mental health. Pivot became one of Canada's leading human rights organizations. After John left Pivot in 2011, he transformed his insight about decision making into a vision to improve democratic policy-making.
That big idea became Ethelo, a platform and process that combines human intelligence with information technology. Ethelo is powered by a set of algorithms which enable groups to find broadly supported solutions to complex and contentious problems.
Through an online platform, Ethelo guides people through group discussions, performs analysis and shows the results in real-time, which helps participants build trust as they move through the decision-making process. The platform analyzes each person's support for each given scenario, ensuring fairness and equality.
Large and small organizations are using Ethelo to collaborate on decisions relating to policy change, business operations and employee engagement. Ethelo is empowering governments and other major influencers to make decisions that produce the least polarizing results, therefore helping policymakers tackle contentious issues. John is a leader of the global eDemocracy movement, which is producing rare solutions to the crisis facing modern democracies.
Ethelo is now being applied to tackle the climate crisis, by supporting municipalities to engage large groups of citizens online and get to actionable commitments to GHG reduction. The scale of change required to face the climate emergency is so significant that everyone should have a say about how this is done — and John is helping everyone participate in re-shaping the world for the better.