Judith Marcuse
International Centre of Arts for Social Change
Vancouver, BC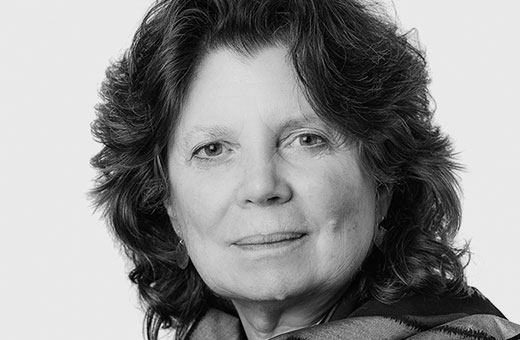 Sector Impact
Civic Engagement
Education
Health & Well-being
Unlocking the world-changing potential of artists
Judith Marcuse's work demonstrates how art-based methods can transform people and organizations into powerful and connected catalysts for social change.
Everyone is an artist.
Artist Judith Marcuse grew up in a house filled with talk of social justice, politics and action. Many of the artists she met were also passionate about social change and using the arts as a powerful tool. But she found that arts were underutilized as vehicles for communities to explore and solve complex problems.
Judith had seen how art-based conversations — as opposed to a town hall discussions — often revealed new problems, insights, and solutions that moved people through barriers to change. Judith imagined the impact that could be unlocked if everyone could access art as a tool for change. While many organizations around the world were using art to promote social change, there was little infrastructure to support discipline-wide collaboration and knowledge-sharing. And so she set about to build a more sophisticated field for art-based methods and unlock that potential.
A natural choreographer, Judith envisioned a different kind of performance. Early on, she explored ways to merge art with inquiry through ambitious, multi-year projects. She led arts workshops with thousands of youth where they explored suicide, violence, environmental and social justice issues. These conversations informed dance and theatre productions, talk-back sessions with audiences and resources created by and for youth.
As Judith deepened her understanding of art's potential as a tool for social change, she noticed that there were few places to learn about this fast-evolving field or to network with others already working in it. So in 2007 she initiated a partnership between her namesake repertory dance company, Judith Marcuse Projects, and Simon Fraser University (SFU). Together, they founded the International Centre of Arts for Social Change (ICASC).
Through ICASC, Judith provides arts practitioners and scholars with the training they need to become arts-based social innovators, integrating community engagement with arts, academic research, training, professional development, and global networking.
Creating this infrastructure is critical to moving the field forward. Judith has led a transition in financing only, from supporting an art piece that makes a social comment to financing an art-based process that bridges communities, enhances collaboration and problem solves for tangible social change.
Judith developed a Master of Education degree program in Art for Social Change for the Faculty of Education at SFU. The two-year program includes dialogue and facilitation techniques, partnership development, project creation and management, communication strategies, and interning with arts for social change organizations. It's the first program of its kind in the country.
Judith's creative approach to tackling complex social change has been recognized with prestigious choreography awards and an honorary doctorate. Through ICASC, she partners with artists and organizations around the globe. And despite having already logged forty years in the field, she continues to develop it: she recently concluded ASC! Project, a six-year SSHRC-funded national research initiative on art for social change.
Highlights from the Network