Manon Barbeau
Wapikoni Mobile
Montreal, QC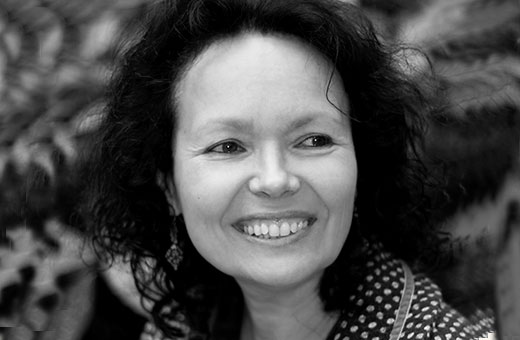 Sector Impact
Children & Youth
Civic Engagement
Education
Human Rights & Equality
Indigenous Peoples & Reconciliation
Science & Technology
Honouring Indigenous oral traditions and amplifying youth resilience
Manon Barbeau is providing a platform for Indigenous youth to tell their stories in their own voices via mobile and permanent film studios managed by local communities.
Healing film.
Indigenous communities in Canada are fighting to preserve their languages and their cultural traditions. Due to racism and the ongoing impacts of residential schools and other colonial policies, Indigenous youth continue to be separated from their families at disproportionate rates. They are more prone than their non-Indigenous peers to dropping out of school and suicide.
The creative resilience of Indigenous youth in the face of these systemic barriers is something Manon Barbeau has worked to harness and amplify through Wapikoni Mobile.
As a documentary filmmaker who'd long been dedicated to working with marginalized communities to tackle social injustice, Manon had a life-changing experience in the late '90s. While working with a group of Atikamekw youth from Wemotaci to make a film about overcoming the humiliation of colonization, the subject of her film, a 20-year-old woman named Wapikoni Awashish, died in a car accident.
Wapikoni was a positive role model and group leader within her community. The tragedy of her death prompted Manon to found Wapikoni Mobile in 2003 in her name, in collaboration with the Atikamekw Nation Youth Council and the First Nations of Quebec and Labrador.
On its surface, Wapikoni Mobile is a mobile studio where, through workshops and mentorship, Indigenous youth can develop their writing, directing and technical filmmaking skills. On a deeper level, the studio is a space where Indigenous youth throughout Quebec are working to restore dialogue both within their own communities and beyond. The films initiate dialogue among all levels of society, facilitating renewal and revitalization in social exchanges, particularly through the reconciliation of Indigenous youths' contemporary and ancestral cultures.
Through Wapikoni, youth produce short films and musical works, often about painful, taboo social issues within their communities. Wapikoni supports youth during and after filming by working closely with community leaders and pairing youth who need support with social workers based in the community. Children, parents and grandparents often become involved in these youth-led projects, and, with Wapikoni's support, finished works are presented to their community and international audiences.
To date, Wapikoni Mobile has visited 44 communities from 14 different First Nations, as well as 45 communities abroad. Five thousand participants have been trained, collectively producing over 1,145 films and 750 musical recordings, centring and celebrating Indigenous cultural heritage. With a view toward solidarity, Manon is developing partnerships with local Indigenous organizations in Brazil, Bolivia, Peru and French Polynesia, so they too can train filmmakers and social workers, replicating and adapting Manon's model within their local context.
The real change Manon is facilitating with Wapikoni is in giving power to historically marginalized voices to share their knowledge and worldviews.
Highlights from the Network