Nadia Duguay
Exeko
Montreal, QC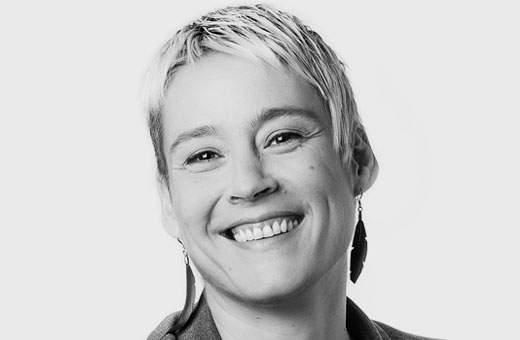 Sector Impact
Civic Engagement
Economic Development
Education
Health & Well-being
Human Rights & Equality
Fighting marginalization through arts methods and intellectual creativity
Nadia Duguay believes everyone has something meaningful to contribute to society, regardless of their background or circumstances, and she is envisioning a more inclusive world in which all types of intelligence are valued.
All intelligence was created equal.
Marginalized populations, like at-risk youth, those with addictions and people experiencing homelessness, are often left out of the decision-making processes used by government and policy makers. But exercising full citizenship empowers people to overcome social and economic hardship.
Nadia Duguay started Exeko in 2006, an organization that uses art, theatre, literature and philosophy to engage with members of diverse populations throughout Quebec that experience social exclusion. Nadia sees art and philosophy as a valuable tool to foster the social inclusion of people who are currently experiencing or are at risk of exclusion. Her organization uses the praxis of "intellectual mediation," which presumes that all types of intelligence are valuable. This equitable approach helps these groups understand, navigate and close the perceived distance between mainstream systems — such as law, education, policy and media. To date, Exeko has engaged more than 25,000 people across Canada.
Nadia grew up in a village of no more than 200 in Gaspésie, Quebec, and was inundated with the message that a person's social circumstances could not be changed. From a young age she refused to believe that and instead looked for new ways to engage with those that feel like they are on the outskirts of society. For her, art and philosophy gave Nadia control of the tools she needed to gain agency over her life, engage with society and, consequently, allow her to continue to create a more just society. Nadia's goal is to provide marginalized populations with community and support. This also involves engaging decision-makers to learn more holistic approaches to capture the diverse intellectual gifts of all members of their society.
Exeko consists of several programs to achieve its objective of bringing people together through creativity, like idAction Mobile, a mobile caravan that travels the streets of Montreal and supplies books, writing kits and art supplies to those living in vulnerable housing or without a home. Since 2006, Nadia has taught workshops to prisoners to ensure they have the tools to be active participants in society; many of the 37,000 incarcerated adults in Canada are young and have low education levels, which create barriers for integration in formal avenues of society. Her technique meets people where they are through art-based practices to connect them to philosophy. Exeko is also stewarding social innovation labs around inclusive culture, knowledge, and discourse to inform systems level interventions within the government of Quebec.This has resulted in the uptake of a new Charter for an Inclusive, Accessible and Equitable culture to guide prominent cultural institutions in Quebec around more inclusive and equitable practices, such as Le Grands Ballets Canadiens, The Fine Arts Museum as well as the National Public Library.
In 2018, Nadia began a fellowship with the Community Knowledge Exchange and is currently taking what she's learned about intellectual mediation to unpack the tensions and convergences of the practices of social and cultural transformations. She is also a board member of the Quebec Research Fund for Society and Culture.
Highlights from the Network