Sandrine Faust
Allo Prof
Montreal, QC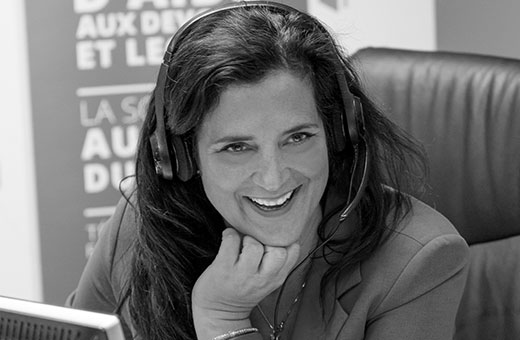 Sector Impact
Children & Youth
Civic Engagement
Education
Science & Technology
Democratizing teacher power dynamics to expand the walls of the classroom
Sandrine Faust is changing Canada's education system, so that all students are empowered to access not just school, but also the full, customized support they need in order to succeed — regardless of financial or cultural barriers.
The world is our textbook.
In the late '90s, Sandrine Faust was deeply discouraged by Quebec's high school dropout rates. Students marginalized by their socioeconomic or newcomer status struggled the most, and the stretched system never seemed to have enough teachers or resources to change outcomes.
But Sandrine could see how the internet had the potential to unlock untapped resources — the brilliance of students themselves — which could be put to use to cost-effectively transform the education system. She envisioned a different system where students are empowered to access support from teachers, parents, peers and community partners in their broader community.
Drawing on her own education in business and education, Sandrine — aka "The Tornado" — took a fledgling TV program called Allô Prof and whipped it into a more impactful set of targeted interventions.
Under her leadership, Allô Prof went from being a call-in program for students seeking help with their homework to an online platform with cyber classrooms, where kids could get support not only from teachers, but also from their peers. Over the years, Sandrine built up a library of free online resources for students and teachers in response to commonly asked questions. Meanwhile, she kept the phone helpline going to ensure kids who are shy or short on internet access are supported.
Sandrine knows that teaching others can help students build confidence and firm up their understanding of a concept, and she consistently challenges the idea of teacher as primary knowledge-holder. In 2001, Allô Prof launched online forums where students and parents could answer each other's questions and teachers were on hand to review every post. Then in 2009, Sandrine launched a peer mentoring program whereby high-school students could get volunteer credits for helping elementary-school students.
Sandrine has also demonstrated the potential of a more collaborative and community-oriented approach to education by creating new paths for community partners to support students. Because many low-income students lack access to a computer at home, Allô Prof works with partners to install interactive terminals at after-school programs, libraries and low-income housing.
A 2018 Ipsos study found that 56 per cent of primary and secondary students in Quebec say they use Allô Prof when they're facing difficulties with their homework — more than they use Wikipedia or Google. In 2017, Allô Prof reported that 400,000 students made use of Sandrine's targeted interventions.
Allô Prof dramatically reduces dropout rates and contributes to student success. "The Tornado" aims to reach 700,000 students by 2022, and she's blowing through status quo educational norms with partner organizations across the country: she plans to transform education in Ontario's Francophone community next.
Highlights from the Network