Christie Young
Farmlink
Guelph, ON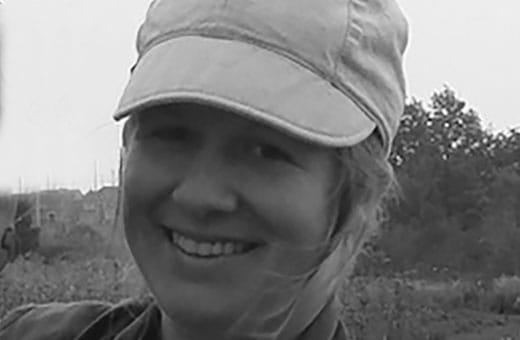 Sector Impact
Economic Development
Environment & Sustainability
Tackling the succession crisis on Canada's family farms
Christie Young is creating a more sustainable Canadian agricultural system by connecting farm seekers with farmland owners through an innovative online platform.
Supporting a new generation of farmers.
There's a succession crisis in the North American agricultural sector. The rising cost of land has made it increasingly less affordable to maintain a small or medium-sized family farm. A 2011 Census report found that the number of farm owner-operators under the age of 55 decreased by more than 57 per cent in just ten years. Canada is about to experience the largest generational land transfer in history. Without an intervention to support the next generation of farmers, the majority of those farms will go to corporations — which has negative implications for sustainable land management.
Christie Young has always been connected to both farming and non-farming communities. She grew up spending weekends on her family's farm and weekdays in their urban home. This gave her a unique perspective on local economies and the dichotomy between farming and non-farming communities.
Even as a student, while pursuing a degree in economic development and agriculture, Christie sought to close that gap. She launched creative initiatives to educate her peers about ethical food systems, the environment and genetic engineering. When she graduated, she travelled the world, farming. After returning to Toronto, Christie transformed FoodShare's annual food protest into a biodiversity festival focused on education and the celebration of food.
Christie's experience with FoodShare led her to realize the power of the relationship between the agricultural sector, the food system and business. She wanted to deepen her understanding. In 2005, she returned to university to pursue a Masters in Geography and Agriculture at the University of Guelph in Southern Ontario. It was there that she founded FarmStart.
FarmStart supports and encourages a new generation of farmers by offering them the resources, tools and support they need to develop locally based, ecologically sound and economically viable agricultural enterprises. Applying the incubator model to a farming context, Christie combined land financing opportunities (through co-op models of support) with land acquisition opportunities that leverage under-cultivated and dormant private and public land.
In 2006, she started the Start-Up Farm Program — a hybrid between a farm incubator, co-op community and business training program — taking new farmers through the specific and distinctive phases of starting a farming operation. Between 2006 and 2013, FarmStart designed and delivered nearly 200 courses and workshops to more than 5,000 Canadians.
Building on her work to develop an ethical, sustainable agricultural system, Christie launched FarmLink in 2010 to enhance the connective tissue holding the farming community together. Through an online listing system, farm seekers and farmland owners search for potential matches based on profile compatibility, allowing for new business opportunities and non-familial succession plans. As of 2019, nearly 1,800 farmers and farm seekers have used FarmLink to connect with each other.
Christie is now working to expand FarmLink across North America and researching ways to implement alternative financing models by working with large Canadian foundations. She's committed to supporting the next generation of mid-level farm operators to seed, strengthen and sustain local food systems.