Edward Edilbi
Dubarah
Toronto, ON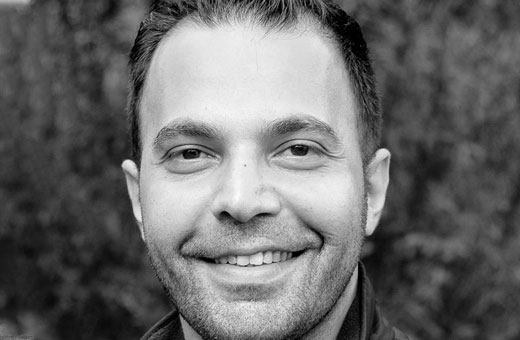 Sector Impact
Civic Engagement
Economic Development
Education
Human Rights & Equality
Drawing on the power of the Syrian diaspora
Edward Edilbi is shifting the post-conflict mindset, empowering refugees to move from individualistic survival mode to seeing themselves as powerful, connected members of society.
Dubarah is Arabic for "Solutions"
Millions of Syrians have fled their homeland to escape violence and devastation wrought by Syria's prolonged political conflict, leaving behind their careers, their homes and even their families. When they arrive in new countries, many refugees experience social isolation, stress, homelessness, unemployment and otherwise precarious living conditions, causing stress, psychological and economic problems.
Edward Edilbi has always been a problem-solver. As a child in Damascus, he noticed that his school needed a library, so he rallied his peers to collect resources and together they launched the school's first library — earning himself recognition by the Syrian Ministry of Education.
Years later, in 2011, after the conflict broke out in Syria, Edward found himself in Dubai, separated from his family. Eventually he was able to use his skills and education to find a job — and a renewed sense of purpose — but it wasn't easy. So he decided to use his own experience as a refugee to help others.
While living in Dubai, Edward developed Dubarah, a model for empowering, integrating and building social capital in scattered, immigrant populations affected by a political crisis or natural disaster. Since moving to Toronto in 2016, he's continued to build the model.
Dubarah draws on the power of the Syrian diaspora to support others who have been displaced. As an alternative to traditional aid models which offer short-term solutions and encourage dependency, Edward is using the power of networks to create a cycle of support between diaspora communities and refugees. Through pay-it-forward actions, these networks enable refugees to play an active and productive role in their new society, shifting self-perceptions and changing destructive public narratives of refugees as financial burdens.
Using online and offline strategies, Edward's network connects Syrian refugees with housing, employment, education, legal advice, investment opportunities, emotional support and a cultural understanding of their host country. For example, his team designed "The Foreigner's Guidebook" to provide refugees with important information, such as accommodation options and visa requirements. In just eight months, 1,800 Syrian diaspora members contributed content for these guidebooks, which were then distributed to 300,000 Syrian refugees in 36 countries.
Dubarah grew to 18,000 volunteers, 8,000 job opportunities (4,000 filled by Syrian refugees) and, on average, 500 solutions shared daily to help Syrians access housing, education and services. Edward is also combating negative stereotypes about refugees through creative campaigns including "Million Thanks," in which volunteers thanked locals to demonstrate how refugees were actively contributing to communities. These campaigns have achieved tangible outcomes such as lowering rental rates for refugees.
Edward has transformed the lives of over three million refugees, all with zero funding, by unlocking the power of network mobilization and human generosity.
Highlights from the Network